COVID-19 measures are now in place for showroom visits & in-home consultations
More Info
Bench Top Resurfacing –
7mm Stone Overlay
A new bench top can give your entire kitchen a fresh new look and can function a lot better in resisting against stain, scratches and heat. Since 1998 we have been using a stone overlay to transform peoples tired old bench tops into beautiful functional work surfaces.
Available in a wide range of colours, these engineered granite and quartz materials will last longer, and take more abuse than laminate and even other solid stone surfaces on the market. They're so popular and so durable that many of our clients choose to install it even if we're doing a new kitchen.
1
Step One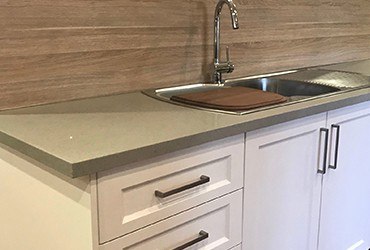 We remove your sink and cooktop and cut the slabs to the size of your bench tops.
2
Step Two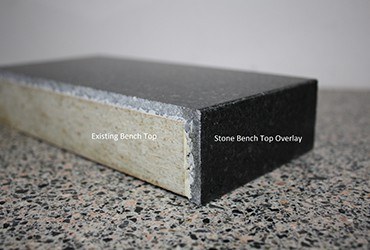 They are then scribed to your back wall, and the front edge is mitred, so a second piece of stone can cover the front edge of your bench top. Its is all stuck down and edges are smoothed to a pencil round finish.
3
Step Three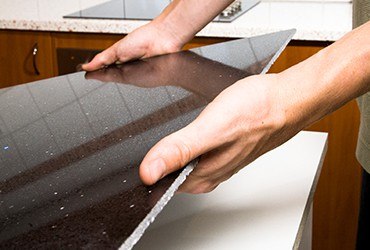 We then have your new or existing sink cooktop reinstalled. All of this can be done in a day.
Your Existing Bench Top Has Bullnose Edges?
We can trim them off then go over the top to give you a sleek 90° square edge profile.
The process will add around 8mm to the height and width of your bench top. Or more if you choose to extend or heighten your benches for space or comfort.
Thin but Durable
Don't be fooled, although this stone overlay is only 7mm thick, this product is incredibly durable. Its price is comparable- often cheaper (depending on the product) with other 20mm engineered stones on the market, but it will save you money by not having to remove your existing bench tops and splashback.
Modernise Your Kitchen with New Appliances
Changing, or resurfacing your bench top is the best time to change your sink, tap, cook top and other appliances. Your Align Kitchens team are happy to organise this for you and can give you pricing and coordinate the installation with plumbers and electricians. We're here to make your renovation run smoothly and give you a beautiful renovation within your budget.
How Can I Change My Bench?

Yes, you can change the shape and size of your bench top.

Yes, your bench top stays in place. No need to remove your existing bench top or splashback if you don't need or want to- which can save you money.

Yes, you can alter the size and position of your sink and cooktop.

Yes, we can install this product even in a new kitchen.

Yes, we can remove your high-top servery and extend your existing bench top into a usable breakfast bar.

Yes, you can use this material as a beautiful splashback.

Yes, it works perfectly installed in your shower recess. No grout lines to keep clean.