COVID-19 measures are now in place for showroom visits & in-home consultations
More Info
Where It All Began
The Align Kitchens team started working together in Brisbane in 1998, and from there have grown from strength to strength. We are the original makeover specialist.
The Align Kitchens team have been servicing Brisbane, Ipswich and Toowoomba for over 20 years, and are having their own makeover. Introducing Align Kitchens, same families, same team, same service, always quality materials and skilled tradespeople at your service. You can still find us at 86 Granite Street in Geebung and 53 Briggs Road Raceview, just a different name and some new exciting products.
We are proud to offer an exciting range of new products and innovations for your benchtop and cabinetry needs. Whether it's a New Kitchen, Kitchen Makeover, Bench Top Resurfacing or New Bench Top, New Bathroom, Vanity, Laundry Renovation, Wardrobes or Customised Cabinetry we can work with you to design, select colours and aesthetic, manufacture then install.
The team and systems that we have created over the last 21 years ensure that we can offer our clients a renovation experience that is well organised and implemented utilising quality materials, installed by skilled trades people who are backed up with a fully operational design, management and administration team. We are good at what we do – we love what we do, creating beautiful, functional spaces to be enjoyed by local families.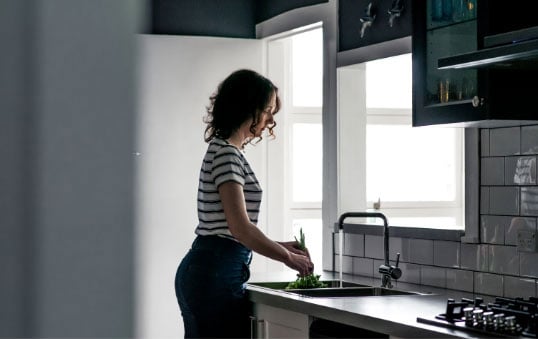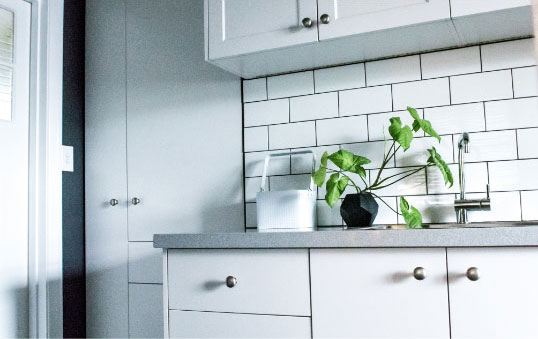 A Team Passionate about Exceptional Design and Service
We are excited by this new chapter and look forward to continuing our work in South East Queensland for the next 20 years! No pressure Sales tactics. Of course, we want your business, but we're not going to trick you into discounts or gimmicks, and we're certainly not going to pressure you. Renovating is a big deal and most of us only get 1 shot at it. We have created an impeccable reputation for knowing what we're doing and doing great work. Our history combined with excellent customer service should be enough to know you've made the right choice when choosing Align Kitchens.
We couldn't imagine working with a better team. Our staff are as important as our customers. We're like family and enjoy time at work. Working is a pleasure, not a chore.
We're craftspeople, not salespeople. We're passionate about delivering the best to our customers.
We're nuts about practical design and get a kick out of watching projects come to fruition and transform people's homes and lives.
Meet Our Team 
Our passion for renovation goes beyond what we create in-store.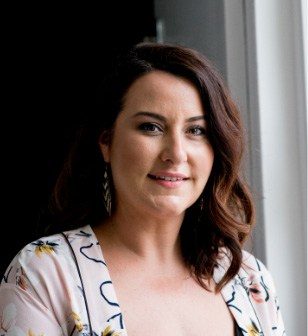 Liz Court
General Manager Align Kitchens
Brisbane
Liz took over the management of the family business in 2008. She stepped into the management of operations, marketing and planning. Liz comes from a background in Marketing in Economics and would best be described as a pragmatic creative type.
Liz's Home Style
Did someone say modern Art Deco? Liz loves bringing together the old and the new. Her home is a 1950's weatherboard home with polished hard wood floors. When she renovated her kitchen, she kept it traditional, but with a few modern conveniences. She has no fear of patterns and colour; her husband thinks she should go into some sort of program for cushion addiction.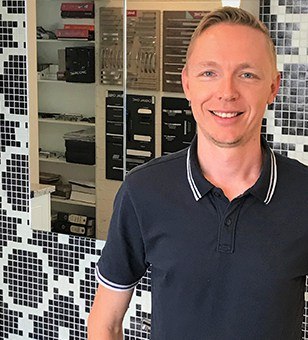 Matt House
Production Manager Align Kitchens
Brisbane
Matt has been with Align Kitchens since 2007. He started working in our cabinet making shed, and his knowledge, lateral thinking ability, and eye for design and function saw him work his way into Production Management. Matt is the practical part of the team who ensures your design and project will work and look great. We all call Matt a walking encyclopedia which makes him perfect for his role.
Matt's Home Style
Matt is a gadget guy. His home is modern and liveable but has chooks that he keeps in his back yard. He is a complete lawn nut! If you've seen the best lawn in Brisbane, chances are that's Matt's lawn.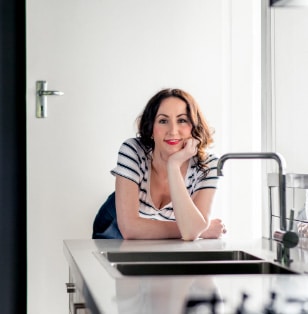 Jo Smith
Designer Align Kitchens
Brisbane
Jo has been designing kitchens in Brisbane since 2008. She is a member of KBDI and has an impeccable sense of style but offers practical solutions for customers to ensure they get functional spaces that are beautiful and blend with your home and style. Jo prides herself on her thorough approach when working with clients.
Jo's Home Style
Jo can often be found prowling retro furniture stores and antique shops on her time off. She lives for all things design and believes you can never have enough indoor plants. Jo is a collector of retro Scandinavian furniture and ornaments. In Jo's home, everything has a place.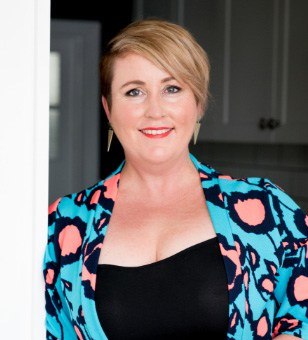 Alana Smith
Sales Manager Align Kitchens
Brisbane
Alana has worked in the family business in a design role since 2008, but more recently has taken on a management role after returning to full time work while raising her kids. Alana comes from an artistic back ground and enjoys creative problem solving, that is, she aims to make things look wonderful, but they must also be practical.
Alana's Home Style
Alana's home is conducive to family living. She has designed her home to be able to escape the kid's Saxophone practice if needs be, yet still creates a space where the family can come together, and kids can be supervised. Alana aims to make her home welcoming, functional, and practical. She likes clever and kitsch design. A coffee table doesn't just have to be a coffee table if it's designed to Alana's taste.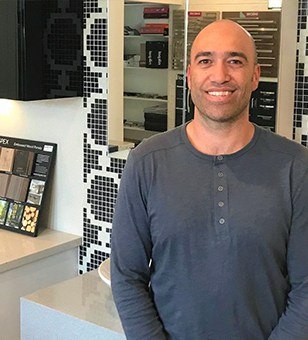 Keri Ngaropo
Designer/Installer Align Kitchens
Brisbane
Keri has worked with the Align Kitchens team since 2005. He is a skilled tradesman with an eye for design. Keri will design and install your job so you'll be dealing with the same person for your entire renovation. Keri is easy to be around, and our customers have expressed over the years that they feel like they're in in good hands and trust his judgement. He's got practicality on his side, but understands the look is what matters.
Keri's Home Style
Keri's kitchen is big, glossy and made for entertaining and bringing people together. He's a social type and can talk the ears off a brass monkey. His home is for family and friends to enjoy each other's company. Style and comfort is how he's designed his kitchen.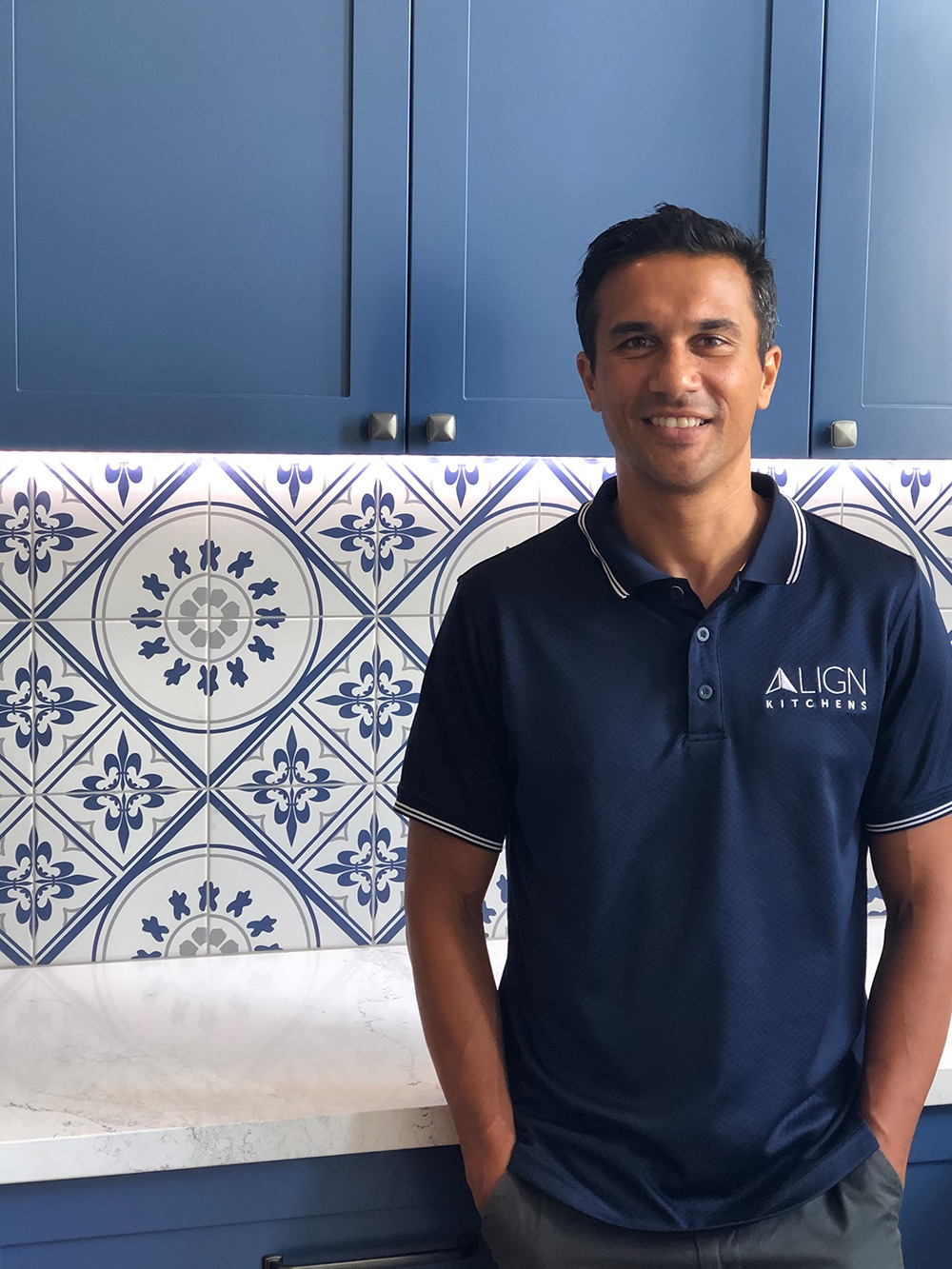 Jude Gregory
Designer Align Kitchens
Brisbane
Jude has been a wonderful and welcome addition to the Align Kitchens team. He's got many great ideas when it comes to renovating your kitchen and bathroom. He keeps on top of current trends but understands the classics too. Jude has a young family and appreciates the importance of having a functional and safe kitchen and that works well and looks great.
Jude's Home Style
Being a family man, Jude's home style is about functionality and being able to bring the family together for meals, homework and general living. He enjoys clever design that looks great. He likes clean lines and low maintenance materials that will clean easily and will continue to look clean.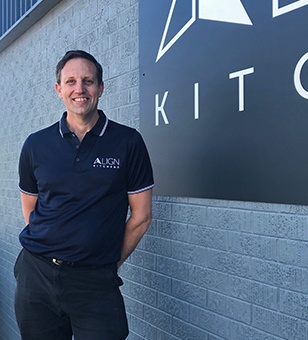 Andrew Cornish
Designer Align Kitchens
Brisbane
Andrew started his career as a Cabinet Maker. As his knowledge and interest grew, he took on design, manufacture and installation of full projects. His knowledge of cabinetry and what works best is unrivalled. He is a lateral thinker and has a great eye for design and style. Andrew is an easy going chap who will explain everything to you and alleviate all your concerns about renovating.
Andrew's Home Style
Andrew is a perpetual renovator and always has a project on the go. He's latest addition is bringing the indoors out, and has just completed his outdoor bar area. He likes clean, neat lines and likes using textures and colours to create depth and character.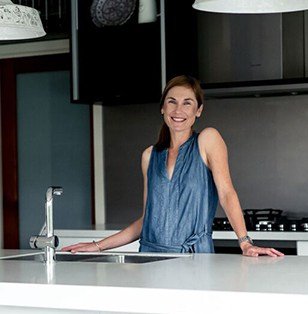 Anna Gregory
Office Manager Align Kitchens
Ipswich and Toowoomba
A nurse by trade, Anna's introduction to the world of Kitchen installation and renovations came when husband Hiwa opened their business in 2007. Anna's nursing background was perfect training for her role as Office Manager. Whether it's organising the day to day running of the showroom or balancing her time between work and raising her 3 wonderful children, Anna does it all with care and a smile on her face.
Anna's Home Style
The funny thing about having a successful cabinet maker for a husband is that sometimes being in demand can mean that they don't have the time to do the jobs around the home that you would like them to. Luckily for Anna, that changed 5 years ago when they renovated and she got her dream kitchen! Classic white gloss doors with white stone tops, it's a large kitchen which accommodates entertaining, sharing meals together as a family and for the kids to sit at the island bench doing their homework. Perfect!
Hiwa Gregory
General Manager Align Kitchens
Ipswich and Toowoomba
Hiwa's early kitchen experience actually started on the opposite side of the equation as a fully qualified Chef. After travelling the world for a number of years Hiwa also had an opportunity to try his hand at building and installing kitchens. Fast forward 18 years and Hiwa has obtained his trade as a cabinet maker, builders licence and is the proud owner/operator of Align Kitchens and Bathrooms Ipswich and Toowoomba.
Home Style
Hiwa's early life as a Chef has definitely left its mark and his homestyle is very much contemporary, Hiwa is big on functionality and likes mixing old and current kitchen trends.A true family man, when he isn't spending time with his family or coaching and watching his boys play rugby, he loves nothing more than tinkering in his shed.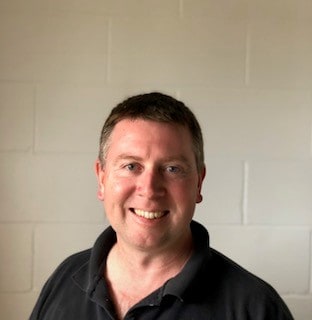 Nick Doyle
Production Manager Align Kitchens
Ipswich and Toowoomba
Nick is the newest member of the Align family and despite only starting with the company in 2017, he has fast become an integral part of the team. From his beginnings as a cabinet maker and his long history in the Kitchen renovation/installation industry, Nick's knowledge, understanding and smart use of available areas make him a real asset. Our clients love how Nick can take their own unique space and bring it to life.
Nick's Home Style
Nick is happiest in his home and loves to spend weekends with the family. Nick has a passion for clean, distinct lines, refreshing colour palettes and open plan living and his home is designed around these principles. This approach to the layout of his home compliments his large outdoor entertaining area, which is the perfect place to enjoy the view of the rolling hills and valleys.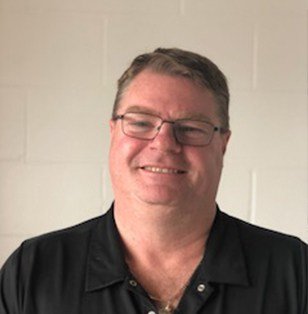 Andrew Lloyd
Designer Align Kitchens
Ipswich and Toowoomba
Andrew's career started in 1983 as a cabinet maker and over time he has successfully transitioned into shopfitting, kitchen manufacturing and now design. With such extensive and well rounded experience in the industry, Andrew has a unique ability to "see" a completed renovation in his head while in consultation with his clients and helps them to visualise their completed project before any work has been started.
Andrew's Home Style
Andrew's style is simple. Clean lines and functionality within a space is key to Andrew's design aesthetic. He also enjoys the challenge of combining cutting edge design, paired with key functionality to create the perfect outcome for his clients. Andrew's home kitchen is functional, easy to work in and more importantly a brilliant space to entertain guests (now that the kids have left home!). True to his cabinet maker origins, this is Andrew's third kitchen in 28 years (why not when you can design, manufacture and build it yourself) although his wife assures us this will be the last. Only time will tell if this is in fact true.